50-year-old sign illegal
by George Kalogerakis, The Gazette
---
Quebec's language inspectors are going after a gravestone maker who serves the Jewish community because his sign's five Hebrew characters are too big.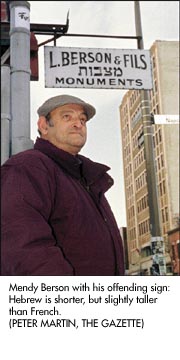 "I got a love letter this morning from the Quebec government," said Mendy Berson, who owns L. Berson & Fils on St. Laurent Blvd. "I feel offended. This letter really hurts me, really hurts."
The letter tells Berson to change his sign or face prosecution. The French message should predominate, it said.
The white sign contains his company's name and the words "monuments" in French and Hebrew. While the French word is much longer, the five Hebrew characters are slightly taller.
His business is a landmark on the Main, where it sits across the street from Schwartz's delicatessen. It has been there since 1922, when Berson's grandfather started serving the neighbourhood's Jewish community. The sign was put up 50 years ago.
Berson informed B'nai Brith Canada after getting the letter yesterday.
They told him he should be exempt from the language law because he serves an ethnic-based clientele, similar to an English bookstore.
An official of the Commission de Protection de la Langue Française refused to discuss the particulars of Berson's case.
"Normally, the French should dominate," Lucie Benny said. "There are exemptions for things like bookstores or video stores where the videos are in both languages. Or for shows in Spanish where the signs are all in Spanish."
But Benny said a business is not entitled to an exemption just because the vast majority of its clientele is from one ethnic group.
If it did, then businesses with English customers would try to get around the law that way, she contended.
Robert Libman, B'nai Brith's regional director for Quebec, criticized the provincial government for "siccing its dogs" on small businesses.
"Here's the government going and blowing tax dollars on useless bureaucrats who have nothing to do but go after petty violations of unfair language legislation," said Libman, a former Equality Party MNA.
Language inspectors usually get most complaints over English signs, but there have been investigations involving other languages.
Berson's business is one of a few in Montreal that can do Hebrew lettering on monuments. Berson said 99 per cent of his business is Jewish. The rest is Greek and Asian.
This is not the first time that language inspectors have angered the Jewish community. A 1996 crackdown just before Passover on kosher foods with English-only labels garnered international attention.
Yesterday afternoon, Berson was pessimistic about keeping his sign as he sat behind a granite-topped desk. Across his office was the monument the 66-year-old will have put on his own grave when the time comes. The engraving is missing, but the black stone already has the Star of David, decorative lines and flowers.
Outside, his front yard is cluttered with snow-covered granite blocks, an incongruous sight among the area's trendy bars and restaurants.
If Berson doesn't change the sign, his company can be fined $500 to $1,400.
"I'll try not to comply with it, but it's the law," he said. "It makes me feel like a third-class citizen."
With the help of B'nai Brith, he will try for an exemption. If he does not get it, he will paint over the sign including the French word.
In Westmount, where a string of local businesses have had recent run-ins with the commission over non-conforming exterior signs, one local shopkeeper has decided to fight rather than switch.
Judy Mappin, owner of the Double Hook Book Shop on Greene Ave., received a letter from the enforcement agency in late October saying her two outdoor panels are in violation of the law because they are bilingual. The signs have been in place for 23 years.
In response, Mappin sold the signs to the anti-sign-law group Cit-Can, which added small stickers protesting against the language law. Cit-Can argues the signs are now political messages, and thus exempt from the sign law.
"I don't like being political, but sometimes you have to take a stand," Mappin said last night. "These kind of absurdities have to be pointed out."
jonathon gatehouse of the gazette contributed to this report
---

Back To The Main Page
Check out The Montreal Gazette for more Info
The Article is property of The Gazette, a division of Southam Inc.